I'm releasing a WordPress plugin called "Web Fonts." This plugin takes advantage of the free and open-source Google Web Fonts. If you're not familiar with Google Web Fonts, it's a group of fonts that allows designers to customize the looks of their blogs or websites using hundreds of exotic fonts. With a gaggle of external fonts available for use, "Web Fonts" can transform the overall design of a website.
Install and Configure
Upload the "webfonts" folder to the WordPress plugins folder.
Activate the "Web Fonts" plugin from the "Dashboard > Plugins > Installed Plugins."
Configure stylesheet link and CSS from the "Dashboard > Settings > Web Fonts."
If you want multiple fonts, just add a second stylesheet link and additional CSS.
"Update Options" to save.
Screenshot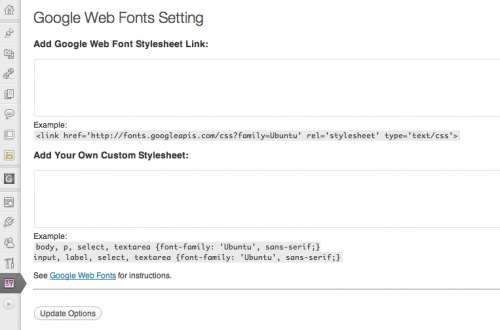 Version 1.1
Moved to "Appearance > Web Fonts"
Added some documentation